In Schenectady, welding a dependable job
Posted: March 29, 2018
A desire for a long-term career after a series of dead-end jobs prompted James Pietrow, 27, to look into welding.

Jake McGann's father introduced the 20-year-old to the craft when he was a young child and he found it "fun and relaxing."
Introverted tendencies and a love of working with his hands caused Damond Daley, 26, to gravitate toward the industry.
"It also gives you the opportunity to create things with your own hands," McGann said.
All three are students at the Modern Welding School at 1842 State St. in Schenectady, where they will spend 900 hours over seven months learning to weld everything from delicate materials to bridges and skyscrapers before entering the field.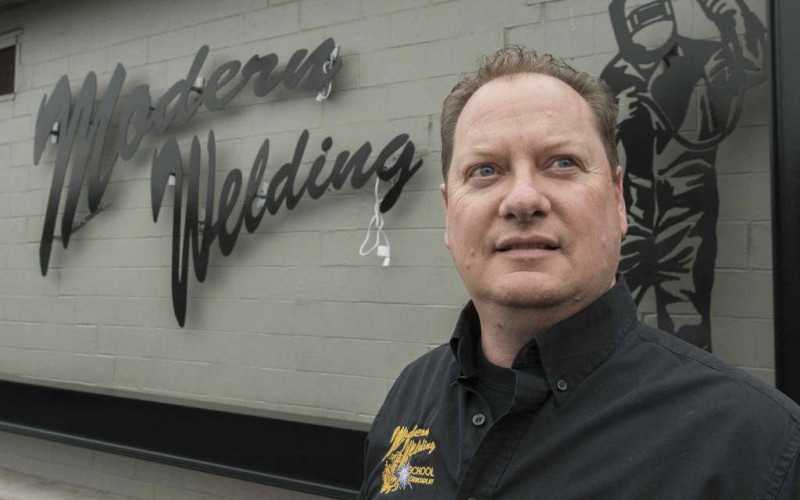 Equipped with protective masks and thick coats, they wield acetylene and liquid oxygen torches to fuse and shape materials as sparks fly around them before carrying smoking pieces of metal to large bins. At the end of the program, students produce a final project like a bed, a truck rack, a sign, a grill or an elaborate cow skull made with motorcycle chains.
"The first few weeks are tough, because you're learning what the metal wants and how to do it," Pietrow said. "But it's fun, and there's a camaraderie."
Many of the students are recent high school graduates or veterans looking for a dependable job that won't set them back thousands of dollars in debt, said vice president Jeff Daubert. The main course costs $17,992 and starts 10 times a year, with an average of 12 people per class. Job placement rates range from 83 to 86 percent, and students have found jobs at companies like General Dynamics, Bombardier and Newport News Shipbuilding.
Last year, the average salary for graduates in their first year in the field was just under $36,000. The school also offers additional courses and workshops that vary in price depending on type and length.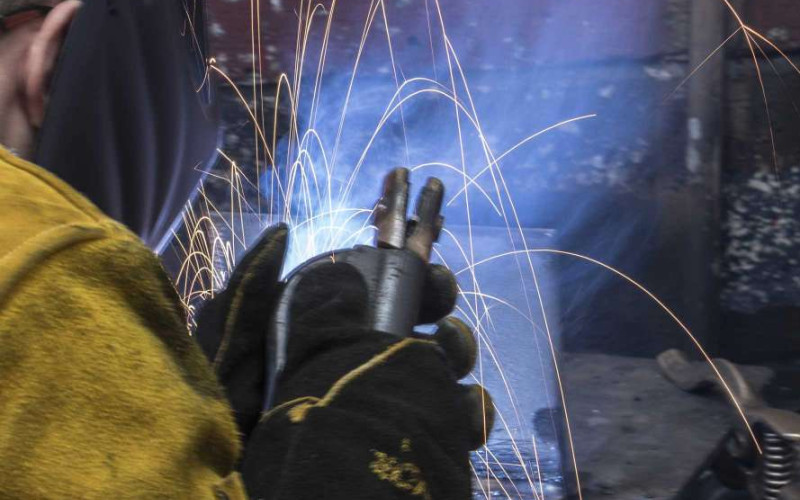 People are also drawn to the tangible nature of the industry, Daubert said. Many of the school's students grew up working with tools, tinkering with cars or building things in a garage with their father or grandfather — including Daubert, whose father and grandfather were welders.
And they're meeting a growing need for young talent in the industry, as more people retire from the field. The average age of a welder is around 55, and the U.S. will need about 277,000 welders by 2020, the American Welding Society predicts.
"Very few people have these hands-on skills anymore, and there are more welders retiring every day than there are coming in (to the field)," Daubert said.
Despite the shortage of welders, there's still a stigma associated with jobs in the trades, he said.
"There's this idea that if you can't do anything else, you go into the trades," he said. "But everyone's here because they want to be, not because they can't do anything else."
The school has increased its outreach to women, not only because there's a shortage of welders but because the field needs more diversity, he added. Around 5 percent of welders in the U.S. are women, according to AWS. At Modern Welding, there's at least one female student enrolled every second to third course in a cycle of 10 programs per year.
"The message we want to get across is that women can do this job just as easily as men," Daubert said. "It doesn't have to be a male-dominated field."
With graduation looming, some students have started looking for positions and setting up interviews with assistance from the school. One already has a position lined up.
"(The program) is a short time span, and with the certification the prospects are good," Pietrow said. "It's stable."
Source: https://www.timesunion.com/business/article/In-Schenectady-welding-a-dependable-job-12790994.php 
miszler@timesunion.com • 518-454-5018 • @madisoniszler